Campuses, cities and countries are targeting carbon neutral. Net zero codes and existing building energy regulations are going into effect. Clients are asking us 'how do we cost effectively achieve these goals?'
From existing building energy upgrades, to net zero building design, to engineering state of the art central energy plants, we help our clients make their energy and climate goals into reality.
Our services include:
Zero Net Energy / Carbon Neutral Design + Consulting
Energy Audits and Commissioning
Campus Energy Infrastructure Planning and Design
Existing Building Compliance
Energy Modeling
BR+A is leading the industry, with millions of square feet of net zero buildings and deep energy upgrades in operation, construction and design.
A Net Zero building generates as much renewable energy as it consumes, on an annual basis.
There are four metrics to measure energy performance: site, source, cost, and carbon.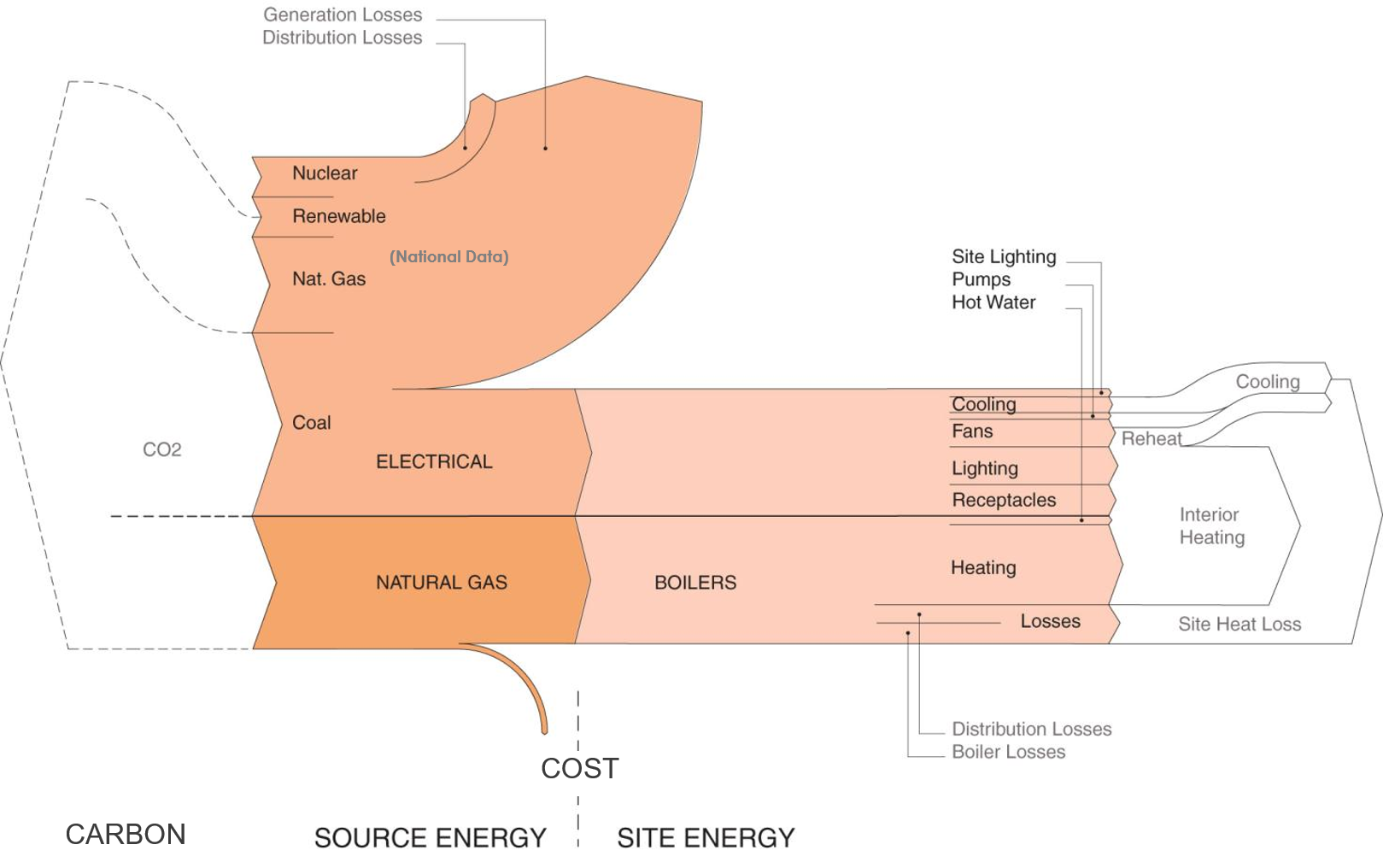 Also, there are four classes of net zero: A, B, C, and D.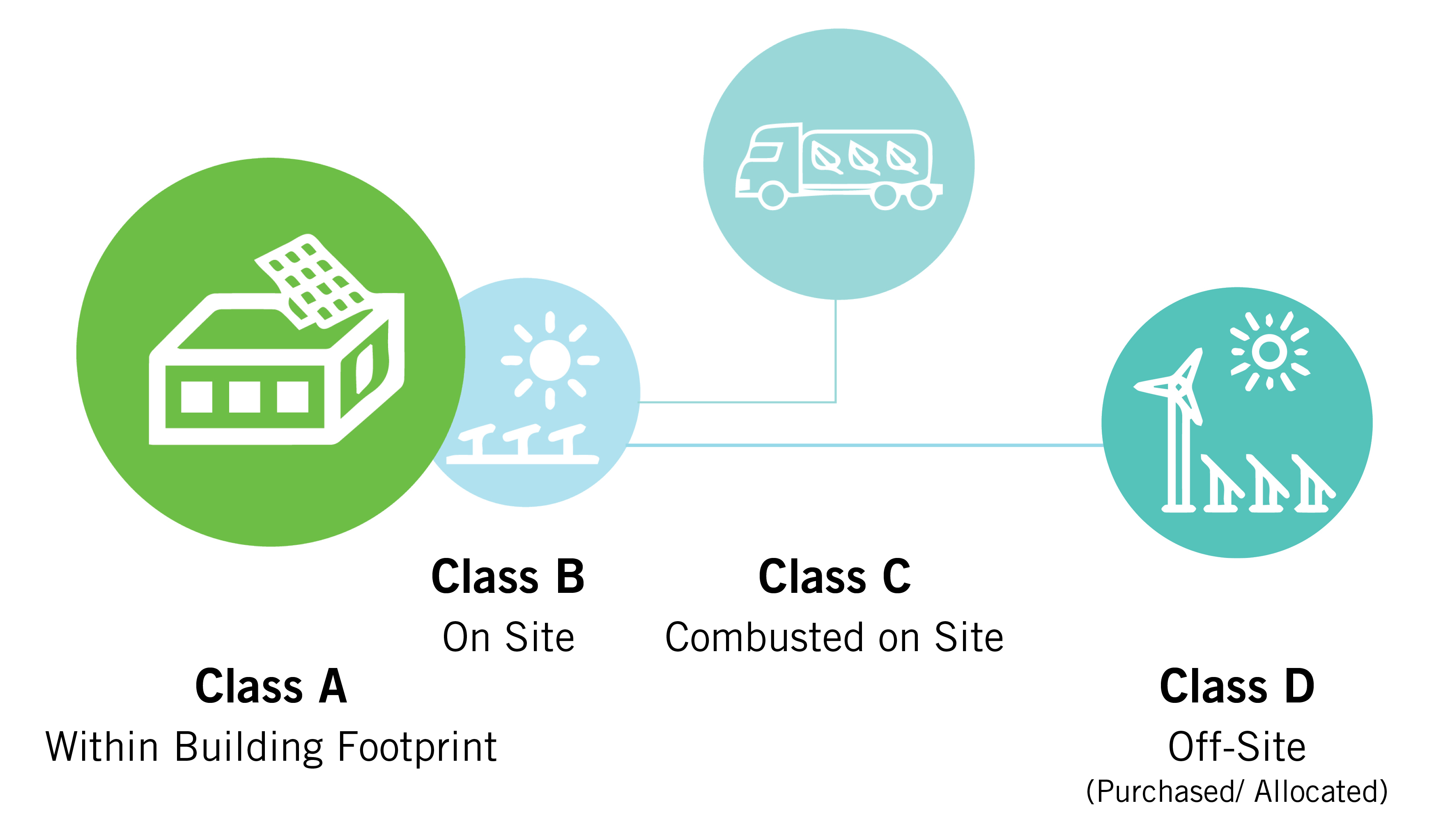 And, there are many types of Class D, defined by whether or not the building owner has an ownership stake in the renewable energy system, if the renewable energy system is in the same state or grid region, and if the renewable energy is located in a compliance market.
With the four metrics and four classes and sub-classes, there are dozens of types of net zero buildings. This is recognized by various net zero verification programs, including: New Buildings Institute (Net Zero Verified), International Living Future Institute (Zero Energy, Energy Petal, Living Building), USGBC (LEED Zero Energy, LEED Zero Carbon), and PHIUS (PHIUS+ Source Zero).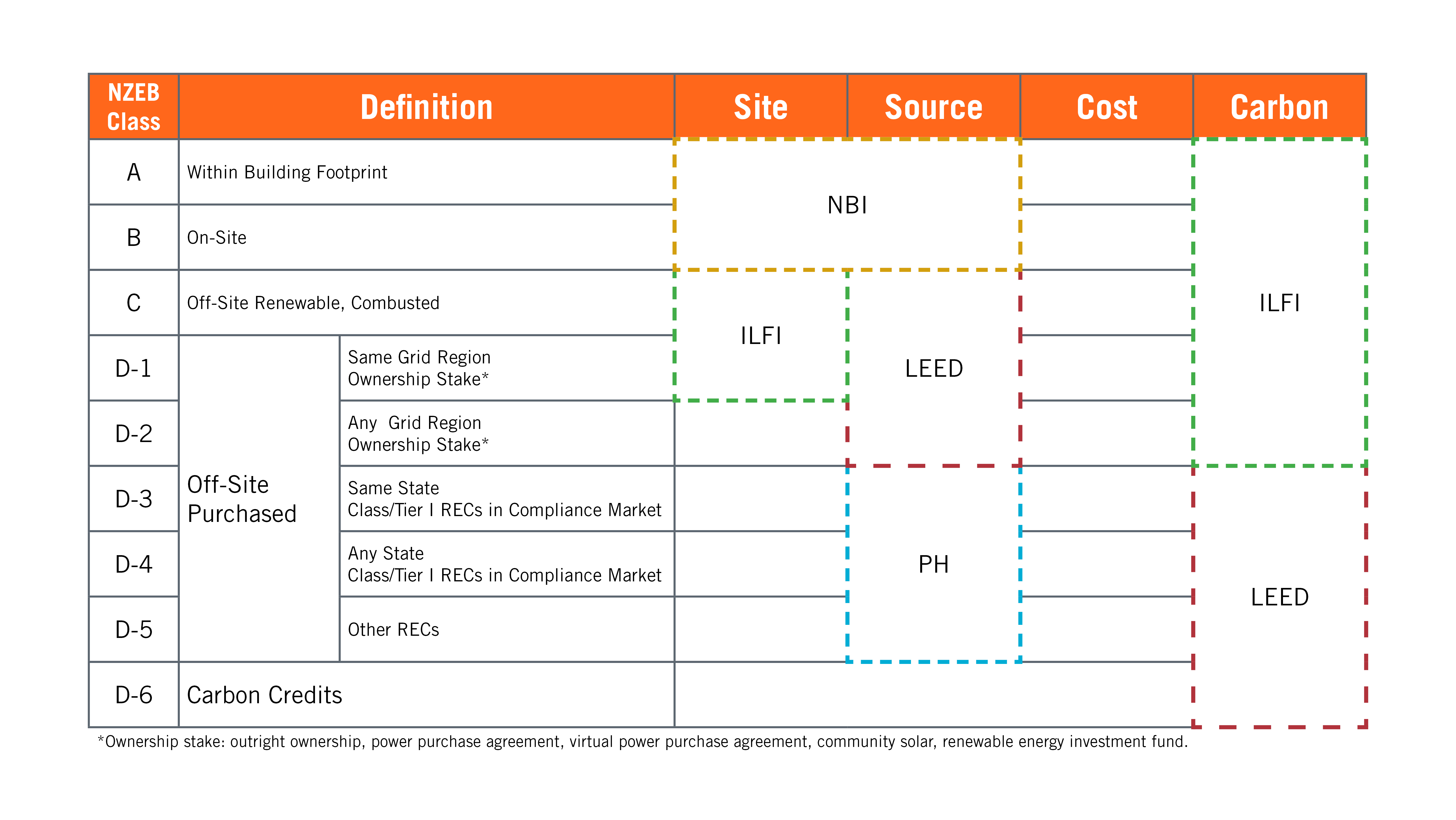 This may all seem over-complicated, but to some degree, it is born of necessity. Consider a sky-scraper in a dense urban site. Short of tapping heat from the earth's core, we do not currently have the technology to achieve a low enough energy consumption and high enough on-site renewable energy generation to achieve net zero. To avoid deterring such buildings from pursuing this important goal, a more flexible approach is necessary. Hence: allowing off-site renewable energy.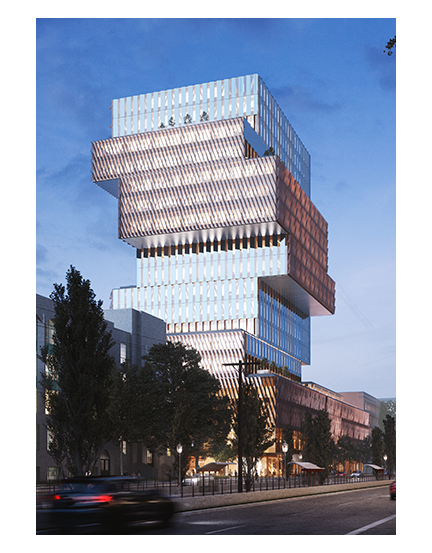 An example is BR+A's project: the 19-story 350,000 square foot Center for Computing & Data Science at Boston University. This building is a Class D-2 Net Zero Site, Source, and Carbon building. It is also fossil fuel free (100% electric). It will be the tallest building to achieve these goals in Boston.
The building relies on heat pump chillers connected to a bore field with 31 closed loop concentric bore holes, installed to a depth of 1,500 feet each. It includes dual-wheel DOAS for ventilation air and fan powered boxes driving active chilled beams for zone conditioning. A water-cooled chiller plant supplements cooling and electric boilers provide back-up to the ground-source system. Triple glazing and fixed exterior fins wrap the building enclosure. The renewable energy is sourced from on-campus solar arrays, mounted to various building roofs and from a wind farm in South Dakota.
The wind farm was able to be built because BU entered
into a long-term power purchase agreement.
'South Dakota!' you say . . . when is off-site renewable energy located too far away to achieve ZNE?  Well, that depends. If your goal is ultimately to achieve a carbon neutral built environment, then distance should not decide whether or not renewable energy can be used to achieve net zero. For carbon neutrality, the real question is: by procuring the renewable energy, did the building owner reduce humankind's carbon footprint?  In the carbon accounting world, this is known as 'additionality'.
An example of 'additionality' is: many states have regulations that require utilities to procure a certain percentage of energy from renewable sources. These are called 'compliance markets'. If a building owner procures renewable energy from a source within a compliance market, they have effectively removed that renewable energy from the market. Therefore, the utility company must find additional sources of renewable energy to meet their quota. This drives development of new renewable energy installations, hence meeting the definition of 'additionality'.
An example of renewable energy that does not meet additionality is when building owners purchase Renewable Energy Credits (RECs) from sources such as wind farms in Texas. Texas is not a compliance market, so removing these RECs from circulation does not does not force development of new renewable energy systems. And, it is cost effective to build wind farms in Texas, regardless of whether or not you can sell the RECs. Therefore, by purchasing these RECs, you are not tipping the financial scale from not financially viable to cost effective. So, you can't claim you have had an 'additional' impact.
This is why only one of the net zero verification programs allows this type of RECs: LEED Zero Carbon. And, even LEED Zero Carbon has a mechanism in place to avoid over-counting renewable energy credits that have limited emissions impact: they require the use of the EPA Avert tool to determine the emissions offset. Texas wind accurately results in minimal credit using the EPA Avert tool.
To see more examples of Net Zero buildings, check out the New Buildings Institute website.
Would you believe us if we told you that we typically achieve less than 2% construction cost premium on our net zero buildings, compared to 'business as usual'?  Sounds too good to be true, right? Click here to learn more.