Wellesley College, Science Center Renovation
150,000 SF renovation of the existing Science Center as part of the Wellesley 2025 Consolidated Program Plan to provide a highly functioning science center to inspire students and support the teaching and research of the college's high caliber faculty. The project includes system upgrades and space planning that fosters interdepartmental collaboration between students and faculty, including a new "Intro Lab Neighborhood" to place labs from multiple disciplines around a shared lab hub for support and storage areas to encourage integration between disciplines. Also included is the renovation / expansion of an existing vivarium, which includes holding rooms for non-primate animals, procedure rooms, behavioral testing rooms, cage and glass wash, and other associated support spaces. The project requires utilizing redundant supply and exhaust AHU's, and retrofitting them with dedicated air valves for each space for pressurization requirements to provide future flexibility. The facility contains state-of-the-art technology and tools such as flexible furniture, writeable surfaces, and MakerBots.
The science center included a new 100,000 GSF addition to the science complex. The new addition includes classrooms, offices, wet labs, dry labs, and a teaching greenhouse. The addition is connected to the rest of the science center through an open hub. A combination of new and existing MEP systems were provided to for the new addition.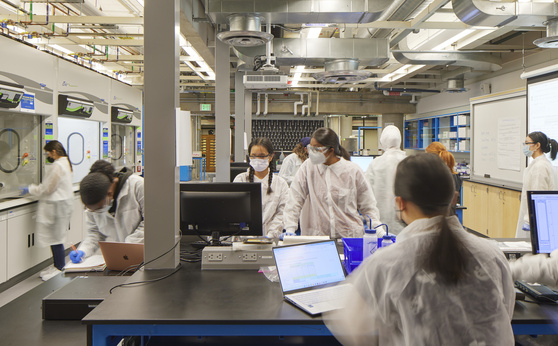 Projects Highlights
Architect
Skidmore, Owings & Merrill LLP