UMass Chan Medical School, New Education and Research Building
This new state-of-the-art biomedical research building at the University of Massachusetts Medical School will support the development of therapeutics for some of the world's most challenging diseases in a high-performance, aggressively sustainable environment. The nine-story, 350,000 SF New Education and Researching Building (NERB) responds to demands in the commonwealth and across the nation for more health professionals and life science researchers and will help attract top scientists and students to UMMS. Space is planned for a projected 77 principal investigators, and the building will house the Horae Gene Therapy Center, the Departments of Neurology and Neurobiology, the Program in Molecular Medicine, the new Program in Human Genetics & Evolutionary Biology, an FDA-compliant manufacturing facility for clinical trial therapeutics, and a 25,000 SF Vivarium.
Dual wheel dedicated outside (DOAS) air handling units approach 80% effectiveness, eliminating the need for preheat for the general exhaust. Advanced run-around heat recovery systems are applied to the vivarium and fume hood exhaust.  Triple glazing and an airtight envelope results in an ultra-low load envelope and removes the need for perimeter heat. A ground-source bore field supports all space-heating needs. Off-site renewable energy will achieve Class D NZE.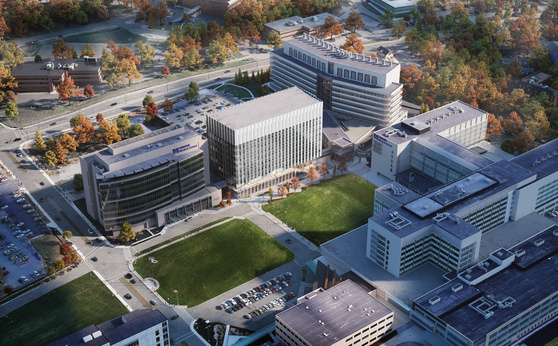 Projects Highlights
Owner
University of Massachusetts Medical School