Florida International University, Tamiami Hall
Rising from the ancient Sweetwaters on the eastern edge of the Everglades, this 299,000 SF, 13-story vertical student village serves a new community of first-generation college students. The facility redefines the meaning of shelter and provides safety-in-place strategies that connect to campus-wide resiliency plans. The intent of the building is to allow for students to be part of a new model for housing, where they can have a focused support framework, and environment focusing their growth as future leaders in a holistic way, where learning is paired with physical and mental health.
The Tamiami Hall project consists of 693 undergraduate student beds and ancillary spaces, made up of 676 rentable beds and 16 beds for student resident assistants.
This program includes ground floor space that provides services needed in the residential area of Modesto Maidique Campus (MMC) including a multi-purpose room and academic support. The goal of the building was to create a sense of community. The facility has the character of a high-quality residential facility that blends with existing campus architecture and other student housing in the area.
Utilizing methodologies of standardization and prototyping provided the opportunity for cost effective solutions, allowing the institution to showcase as an example of future thinking within the State University System.
Mobility, integration with nature, diversity of spaces, day-lighting, and passive security strategies were essential drivers in the development of the overall experience. The natural setting is reinforced with the introduction of a redefined lake, a new campus promenade, and a collection of outdoor experiences that partner with the drivers of wellness, collaboration, and vibrant student life.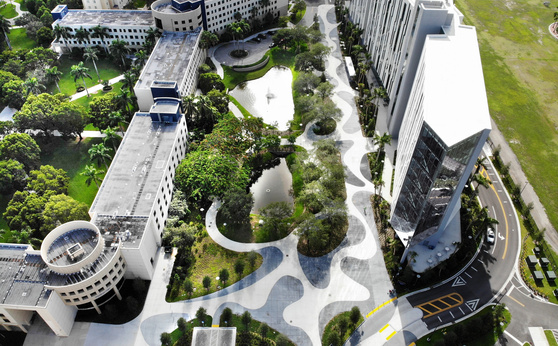 Projects Highlights
Owner
Florida International University
Awards
Excellence in Construction, Schools / Educational, Associated Builders & Contractors