Boston University, Center for Computing and Data Science
New 345,000 SF, 19-story building housing computer science labs, classrooms, office, and collaboration space.  The building is designed to achieve an EUI of 35 kBtu/sf*yr, which is 1/3 of the regional average for similar facilities.  To eliminate fossil fuel consumption on this urban site, the heat pump chillers will be connected to a ground-source system with 1,500-foot deep closed-loop HPGX wells.  Premium efficiency water-cooled chillers will provide supplemental cooling for high load conditions.  Air handling units with two energy recovery wheels bracketing the chilled water coils will minimize heating and cooling demand.  Chilled beams driven by sensible fan coil units provide space conditioning.  Triple-glazed curtainwall with fixed exterior shades eliminate the need for perimeter heat and reduce cooling loads.  Due to the building's height, renewable energy from off-site sources will achieve Class D ZNE.
Images provided by KPMB Architects.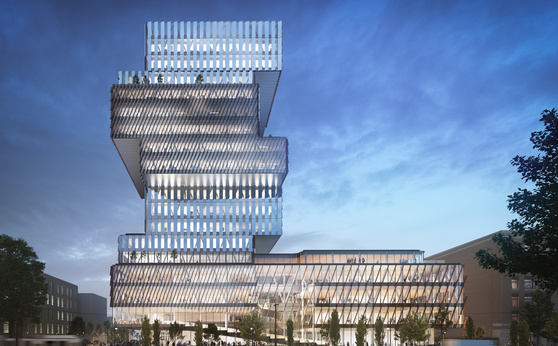 Projects Highlights
LEED
Targeting LEED v4 Platinum
Awards
2019 Architizer A+ Awards Jury Winner