Project services
Sustainability Consulting
Mechanical/HVAC
Plumbing
Energy Modeling
Electrical
Awards
AIA Cote Top Ten (2021)
SCUP/AIA-CAE Excellence in Architecture, Honor Award (2021)
AIA Education Facility Design Awards, Design Excellence Award (2021)
Built Environment Plus Award, Category Leader, Carbon and Energy (2021)
American Architecture Award (2021)
AIA New England Honor Award (2020)
ENR MidAtlantic Best Projects Award of Merit (2020)
GBCA Best Educational Institution Project (2020)
BSA Sustainable Design Awards Citation (2020)
New 100,000 GSF science facility designed to meet the space demands of the College's Biology, Computer Science, and Neuroscience programs. Included is a 2,5000 SF vivarium with holding rooms for non-primate animals, procedure rooms, cage and glass wash, as well as associated support spaces. The spaces are equipped with an air quality monitoring system (Aircuity) to allow for reduced air changes that improve the buildings energy performance. The MEP equipment includes a dedicated air-handling unit with redundant fans and redundant exhaust fans, all of which are on emergency power including a heat recovery chiller for cooling, condensing boilers for heating, and dedicated steam boilers for humidification. Additionally, the ISC provides space for the IDEAL Center, an entrepreneurship program connecting engineering and the liberal arts to solve real-world problems. LEED Platinum Certified.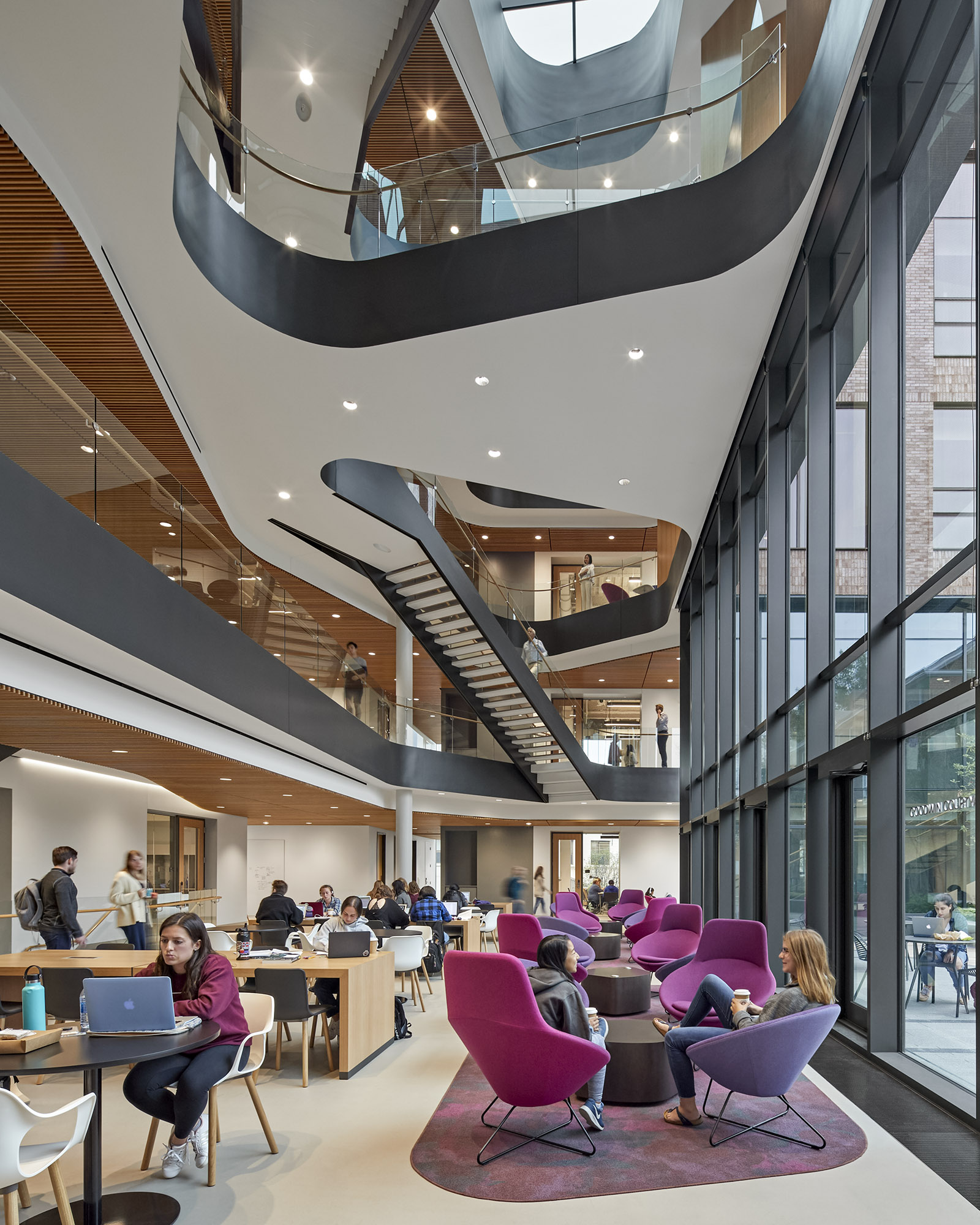 MEP life cycle cost analyses were vital in realizing ultimate MEP performance. The heat recovery chiller LCCA right-sized the chiller system and showed a simple payback of 8.4 years and the Aircuity LCCA presented a payback of just 4 years to have monitoring in over 50 spaces allowing for reduced air changes by 33% in laboratory spaces when the air is clean, greatly reducing energy usage. The MEP design utilized 100% outside air units with decoupled minimum ventilation air from conditioning air driving down sheet metal sizes and overall floor to floor heights by 12" per floor.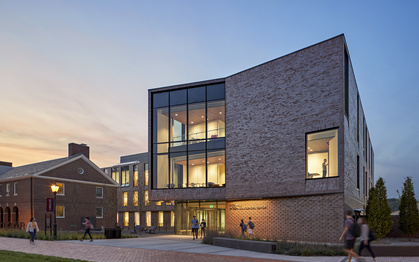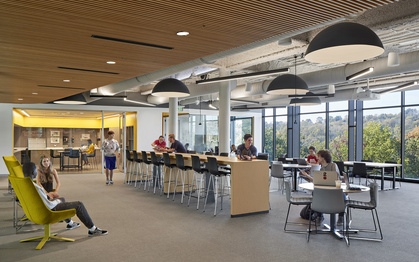 The building has a predicted EUI of 76 kBtu/SF/yr, one of the lowest values for a laboratory building in a cold climate. There are only 2 other lab buildings below 85 EUI out of 304 measured facilities in climate zone 5 and higher in the I2SL Lab Benchmarking Database, placing this building in the 99th percentile for cold climate labs. The building also achieved an impressive 56% reduction in energy use compared to the code baseline and a 74% reduction compared to the custom 2030 baseline (if the default 2030 baseline had been used, it would have resulted in a 79% reduction). This savings is equivalent to the energy used by 226 homes annually.
In addition, the new building resulted in a net reduction in campus carbon emissions. By replacing Lafayette's energy-intensive biology building with a highly efficient new building, and converting the existing biology building to office and classroom use, the net result was a 40% reduction in operating carbon emissions compared to the existing biology building, while adding 103,000 SF to the campus. A multi-valent approach to reduce energy included decoupling ventilation from conditioning, using filtered fume hoods; cascading air through programmatic zones (multiple use of conditioned air before exhausting it); heat recovery chiller; and limiting the glazing to 24%, while optimizing daylight and views.
The building's remarkably low EUI is also achieved through the employment of an enthalpy wheel heat recovery system, a rarity in lab buildings. Reduced exhaust and make-up air quantities are provided, while an Aircuity system monitors air quality, maintaining a safer working environment by ramping up airflow only when needed and providing feedback to facilities staff and faculty. Fan coil units provide heating and cooling while fully decoupling space conditioning from ventilation rates.
"In so many ways, the Rockwell Integrated Sciences Center [ISC] is an absolute game-changer for Lafayette College. The ISC brings best-in-class sustainability, innovation, research, collaborative learning, faculty and student experience, and of course STEM education to the Lafayette Campus.  Congratulations to the entire team, we are truly thankful and honored to have worked alongside Payette, Turner Construction, and Lafayette College!"
Tony Petone | BR+A Principal-in-Charge