Project services
Mechanical/HVAC
Plumbing
Fire Protection
Electrical
Sustainability Consulting
Technology/Security
Penn Medicine, The Pavilion. The new 1,500,000 SF patient pavilion project is an Integrated Project Delivery (IPD) owner/design/build-team effort. The project program provides approximately 510 new acuity adaptable patient beds, a comprehensive interventional and surgical platform including 50 operating and procedure rooms, a relocated and expanded emergency department, new imaging suite, 685 car underground parking facility and support services, as well as bridge and tunnel connections to existing HUP facilities. The LEED initiative is to achieve minimum Gold certification level. A new high-efficiency central heating and chilled water plant was part of the project to maximize energy savings opportunities.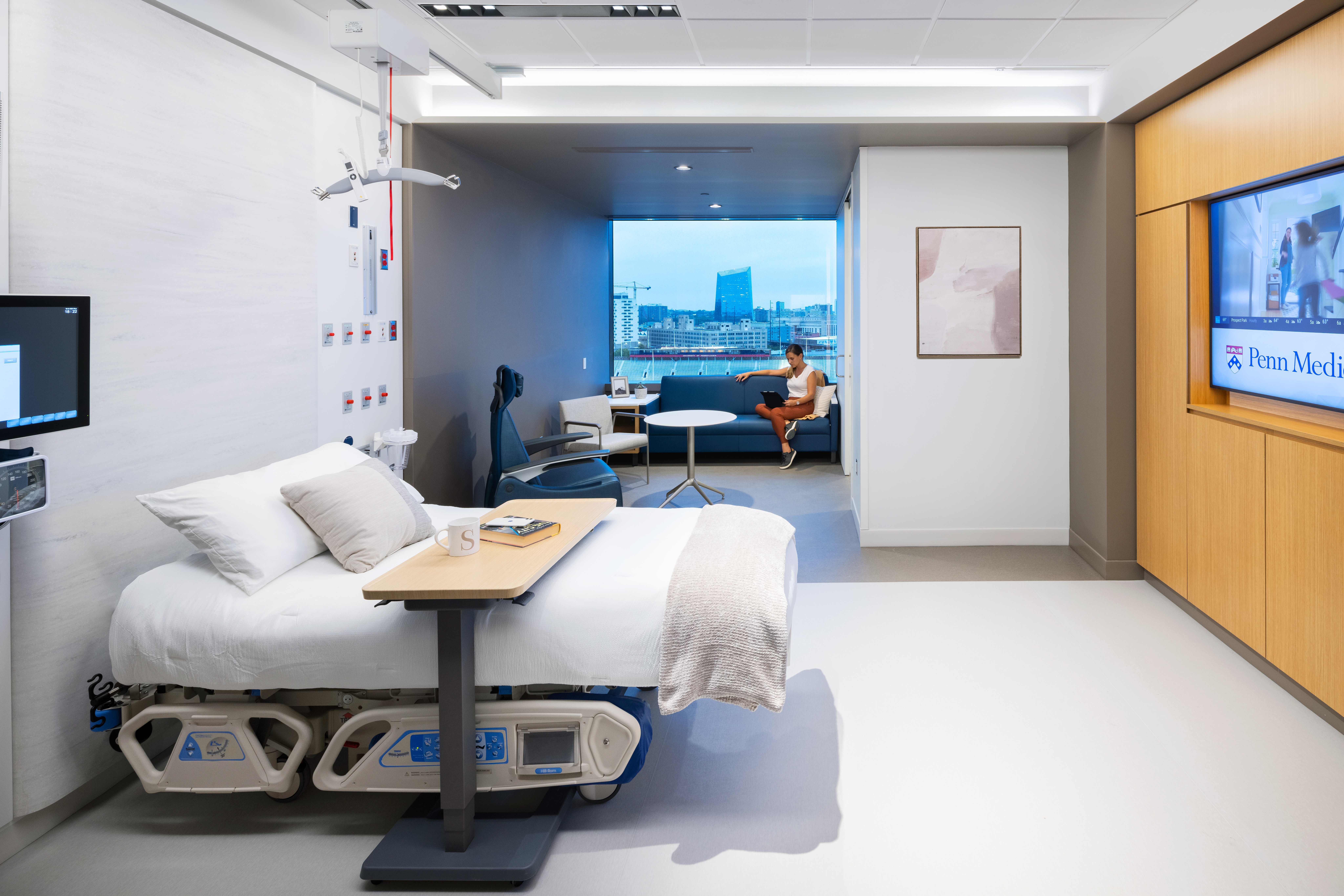 Integrated Project Delivery + Offsite work
Integrated Project Delivery (IPD) approach, emphasizes collaboration among the owner, architect, and builder during design and construction. Penn Medicine Pavilion is the most comprehensive project on the East Coast to use an IPD approach, in addition to being managed with lean methods that rely on relationships, shared knowledge and common goals among stakeholders. The goal of using these methods is to reduce waste and trim the project schedule. 
In order to ensure cohesion, the team worked incredibly closely in a "co-location" space that housed workstations, meeting areas, and modeling and mock-up rooms. The team is employing other types of technology on the Pavilion project, including a shared virtual desktop environment that allows all stakeholders to access the most current BIM models.
The project includes a heavy reliance on prefabrication, especially for time-intensive construction. A 60,000-square-foot warehouse two miles away from the construction site, called PennFAB, was used to produce 559 mechanical racks, 504 bathroom pods and 47 zone valve boxes for medical gas. These long lead items are being constructed and then driven to the site for installation. This approach allows reduced on-site competition between trade partners for space and time. It also allows for deliveries to occur during nighttime hours.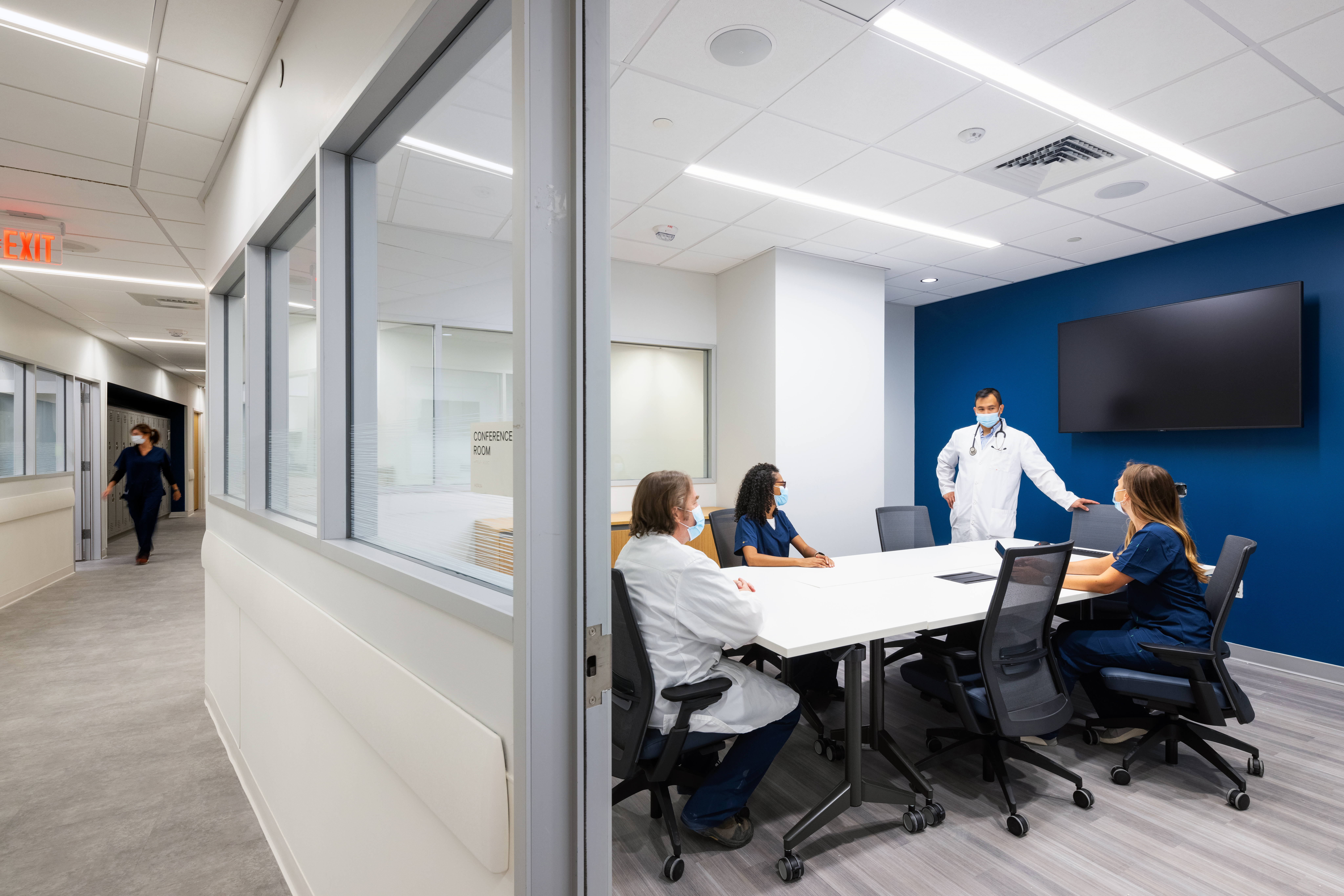 The physical network topology incorporates high-speed primary and secondary (redundant) single-mode optical fiber backbone systems.  The backbone sub-systems interconnect with new Technology Distribution Rooms (TDR) at each floor level in a hierarchical star configuration distributed from two (2) Technology Equipment Core main computing rooms (TEC-1 and TEC-2).  
Category 6A Unshielded Twisted Pair distribution cabling provides robust user and work area communications for IT data, telemetry, biomedical systems, wireless communications, and electronic medical record networked communications.
Systems equipment (for each system) is centralized within the designated TDR rooms but the Technology Systems have been designed to reside in one of two categories – "Information Technology Systems" or "Clinical Engineering Systems".  IT and Clinical Systems areas are physically separated within the TDR rooms and incorporate independent entry with electronic access control.  BR+A worked closely with the Penn Medicine Information Technology and Clinical Asset Management teams in order to identify and understand how the systems would be allocated and managed. 
A wireless LAN system has been designed to support IEEE 802.11ac wireless data transmission using dual (2) Category 6A cables to each Wireless Access Point (WAP).  The wireless network will support patients, staff, and visitors in an authenticated and secure environment.
Electronic access control, video surveillance and intercom systems are utilized to establish an authorized access control hierarchy at each floor level.  Video surveillance cameras are specified for designated focal views and deliver High Definition (1080p) images.  All security field devices are integrated to operate within the existing campus enterprise security management system.