Owner
Bristol Community College
Project services
Sustainability Consulting
Energy Modeling
Electrical
Mechanical/HVAC
Plumbing
Awards
The AIA COTE Top Ten Award
(Please see full awards list below)
In 2014, BR+A was proud to be a driving force behind the The John J. Sbrega Health and Science Building at Bristol Community College (BCC) in Fall River, Massachusetts. The project was an industry first—never before had a zero-net-energy (ZNE) classroom/laboratory building been successfully completed in such a cold climate, and for such energy-intensive activities.
The two-story, 50,600 sf building brings together the school's Sciences and Health Professions disciplines in a beautiful, start-of-the-art space. It includes flexible instructional labs and support space for field biology, biotech, microbiology, and general chemistry, as well as nursing simulation labs, clinical laboratory science and medical assisting labs, dental hygiene labs, and a teaching clinic that treats underserved populations.
Life science teaching labs typically use a lot of energy, driven by a large number of fume hoods, high plug loads, and specific ventilation and lighting requirements. The new teaching lab design called for a high-performance building with numerous energy-conservation measures to meet Massachusetts' LEED Silver Plus requirements, including a minimum of 20% energy cost-reduction relative to code.
While the project was on hold awaiting funding, BCC doubled down on their commitment to achieving carbon neutrality for all campus operations by the year 2050. This initiated plans to develop a campus-scale photovoltaic array over one of school's existing parking lots. And opened up a whole new world of possibilities for BR+A.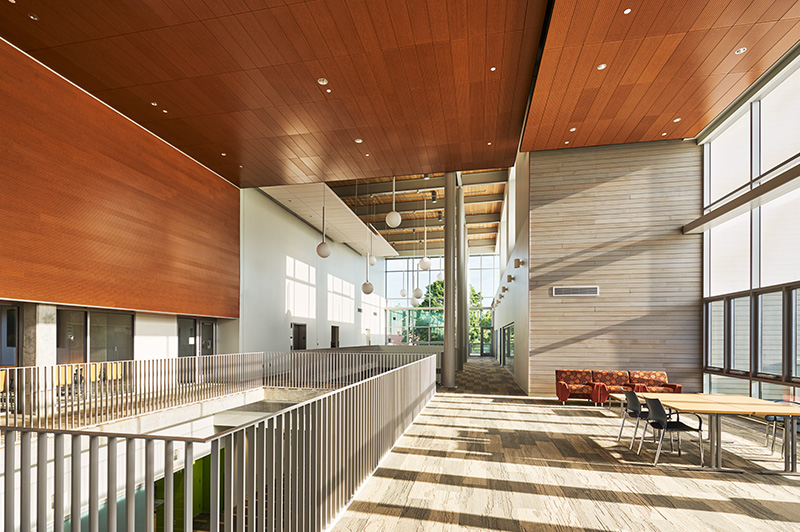 Together, Sasaki Architects and BR+A decided to make the strategic investment to develop a ZNE design in parallel with the high performance design. During weeks of intense work, we interviewed key staff and faculty to understand how equipment is used for each class, and had countless conversations with manufacturers of advanced building materials. Numerous solutions were explored and vetted through exhaustive building simulation, calculations, and research.
Ultimately, a combination of technologies and strategies emerged. These included dramatically reduced lighting and plug loads, a high-performance envelope, natural ventilation systems, a wider indoor temperature range, localized cooling, filtration fume hoods, air quality sensing, reduced air changes, enthalpy wheel heat recovery, and a hybrid-source heat pump system—all with enhanced monitoring and verification help to ensure efficient ongoing operation.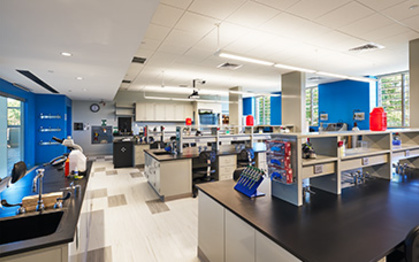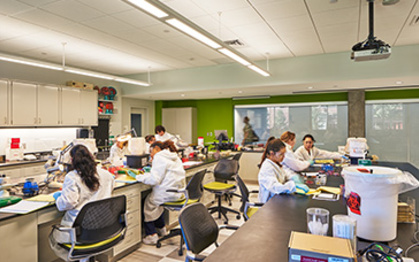 The building's final ZNE design completely eliminated fossil fuel consumption. It reduced energy consumption by 70% compared to the original high performance design, saving nearly $100,000 in energy cost per year—while coming in $200,000 lower than the original budget. The school was also able to take advantage of nearly $750,000 in grants and incentives. This, in combination with the energy and maintenance cost savings, results in a net savings of nearly $2.25 million for first 20 years of the building's life.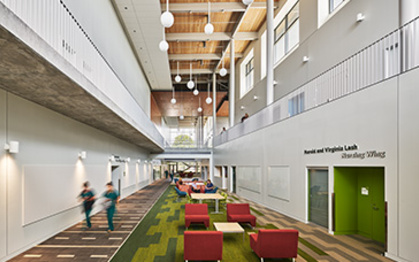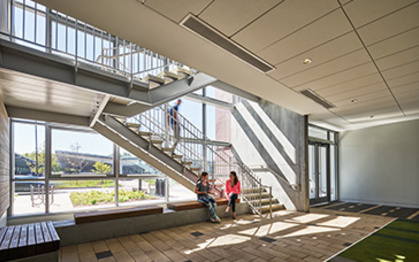 Since its completion, the John J. Sbrega Heath and Science Building has been honored with numerous awards, including the COTE Top Ten Award from the American Institute of Architects (AIA); the Energy Efficiency Award from the U.S. Green Building Council (USGBC); the Massachusetts Go Beyond Project Award, the International Institute for Sustainable Laboratories (I2SL) Award of Excellence in Architectural Achievement; the Unilock Innovation Award; the National Association of College and University Business Officers (NACUBO) Award for Engineering Excellence; the American Society of Heating, Refrigerating, and Air-Conditioning Engineers (ASHRAE) Region 1 Bellwether Award Finalist; and the Community College Futures Assembly Leading by Example Award from the MA Department of Energy Resources.