"Working with international teams is my favorite part [of working at BR+A], developing international partnerships, comparing the US work method to different cultures and building relationships with international clients is very interesting. It's challenging and exciting at the same time."
What does your typical day look like?
"Work-gym-friends. I like to wake up very early and go to the gym for a 6 am high-intensity class before I start my day or I just take my time at home and prepare a super-healthy breakfast. I walk to the office every morning and use that time to call my mom in Italy, I talk to my family every day which is very important for me, living so far away. 
I start the workday by checking my inbox and updating my to-do list, I keep track of deadlines and check in with my team to make sure we are all on the same page. After work, I like to have some time for myself to work out, meet friends for dinner, or one attend of the many cultural events happening in the city—usually involving art or music. Late nights are a no go for me during the week; my bedtime is pretty early and 8 hours of sleep is a priority."
What's your favorite part about working here?
"Definitely the type of projects I work on. BR+A specializes in healthcare and we're involved in top-notch projects and work with the most prestigious hospitals worldwide. Working with international teams is my favorite part, developing international partnerships, comparing the US work method to different cultures and building relationships with international clients is very interesting. It's challenging and exciting at the same time."
Who is your role model and why?
"My role models are typically entrepreneurs or athletes who have achieved their success through hard work and discipline. I truly believe in positive thinking. If you can think it, you can do it!"
What's your superpower?
"My unique balance of structure and intuition. I am highly organized, think strategically, and can read your mind all at the same time!"
What inspires you?
"I get inspired by the unknown. Curiosity and a desire to learn are the incentives that push me out of my comfort zone and move me forward...therefore so are work projects that are completely new to me."
How did you know that you wanted to be an engineer?
"When I was 13, I was invited to participate in the Mathematical Olympiad hosted by the University of Rome. This was a team-based competition where kids were invited based on their performance on a math test. I traveled to Rome, from my small hometown on the Mediterranean coast, to be part of the Italian team, I absolutely loved it! My math skills and my inexplicable interest in buildings and construction took me straight to the Engineering world."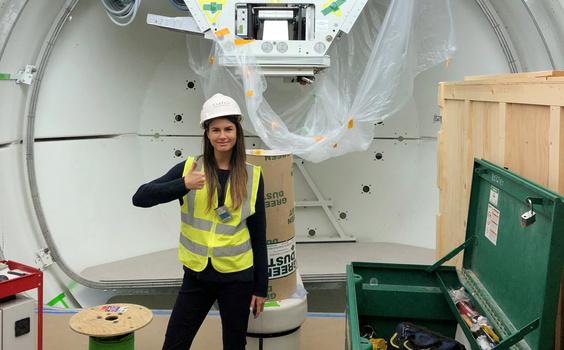 How would you describe your work style?
"Organized, structured, detailed-oriented, and very open...direct communication is key!"
What is the most important thing you learned in school?
"How to solve problems. And not only math."
If you could be anywhere in the world right now, where would you be?
"Exactly where I am. I am the author of my own story."
What has been the most challenging project you've been involved with recently?
"That was when BR+A was hired to help build a new proton therapy center in an existing parking garage of a hospital in Singapore. There was no roof access for cranes to carry in all the proton equipment (including a 90-tons cyclotron) and we could not modify the massive structural columns inside the proton vault. This was also the first ever installation of the new Compact version of the Varian Proton therapy system, we worked alongside Varian to create the technical documentation for the proton system and in parallel, we were moving forward with the overall design. After less than three years of design and construction, the Singapore Proton Center is almost complete, which I believe is a great accomplishment."
What makes a great engineer?
"The ability to see the bigger picture. An engineer has to be able to solve problems, but a great engineer has to be able to do so while identifying priorities, planning the correct strategy, coming up with the most efficient solution...all while keeping a smile on your face! "
Tell me about the state of the industry as you see it, right now. What does the future hold?
"I see a lot of interest in prefab solutions, the goal is always to minimize construction time and cost but the future needs to achieve that without compromising quality and sustainability. Design quality, environmental solutions, and energy savings have become increasingly important.
The future of Proton Therapy is definitely Carbon Therapy (an advanced type of radiotherapy based on the use of a heavier particle that can provide a more effective cancer treatment)! BR+A has been involved in the development of this technology in the US market, working with the Carbon Vendor Engineers to analyze and improve the technical data associated with the equipment performance and also working with a few different hospitals to study the preliminary design of Carbon Centers in the US."
What's your niche?
"Protons Protons Protons!  I've been working on Proton Therapy Projects since my first day in BR+A. After almost 7 years, about 25 protons, and over 250,000 miles flown around the world, I definitely consider Proton Therapy Design my specialty.
Usually labeled as "Proton Expert," I like to compare our work to what has been done worldwide and the percentage of protons we have been involved with is incredible, approximately 60-70% of the US centers and 30-40% internationally."
If you weren't an engineer, what would you be?
"A tennis player, tennis has always been a big part of my life, I started playing when I was five, then played professionally for a few years. Unfortunately not anymore, living in the city doesn't give me many opportunities to play and now when I go back to Italy I lose to my mom, it's embarrassing."
What's the greatest lesson you've learned in your career so far?
"To manage my time, workload and expectations. To aim for perfection but be prepared to compromise. To share your success with others and to celebrate others' success."