October 15, 2018
Lahey Burlington Energy Infrastructure Upgrades Wins AEE-NE Energy Project of The Year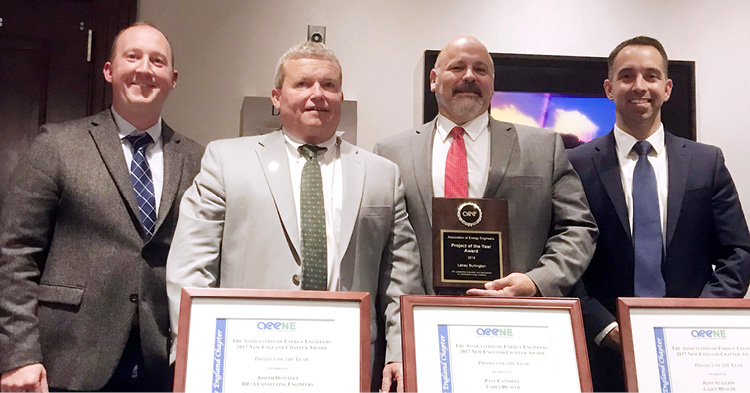 We are proud to announce that our 2016/17 Energy Infrastructure Upgrades Project for Lahey Hospital & Medical Center (Lahey Burlington) has been awarded Energy Project of the Year. This strategic energy infrastructure master plan has been recognized by the Association of Energy Engineers – New England Chapter for comprehensiveness, outstanding innovation, and commitment to sustainable energy practices.
Under the direction of Lahey Health's VP of Facility Operations, Paul Cantrell; System Utility Engineering Manager, Jesse Stallions; and BR+A Project Manager / Mechanical Engineer, Joe Dussault; the team-driven five year plan has since allowed the hospital to surpass their 2,000,000 kWh energy savings goal in Year 1. This effort demonstrates that Lahey Burlington's partnership with Eversource and National Grid helped lower the 1M sf hospital's carbon footprint and stewardship of healthcare costs.
The 2016/17 Energy Infrastructure Upgrades Project included:
The installation of a new 1,000 ton magnetic bearing chiller with new chilled water optimization sequences for significantly low kW/ton operation at low condenser water temperatures. This new chiller was installed in a location that not only optimizes the chilled water system, but also allows Lahey to make much needed upgrades to the existing central utility plant, in turn making Lahey a more resilient hospital.* 

Airflow setback of five 100 HP AHUs across the hospital that typically operate 24/7. New sequences were implemented to the building automation system to allow airflow setback during unoccupied hours without disrupting hospital operation.*

Implementation of free cooling heat exchangers for winter operation. Major piping modifications were required to enable the free-cooling plate and frame heat exchangers. Lahey coordinated a weekend drain down of the entire chilled water system to bring the plate and frame heat exchangers online. These heat exchangers allowed the 1,000 ton chiller that typically operates throughout the winter to be de-energized.*

Replacement of the fans (fan wall retrofit), coils and filters for two (2) 25,000 CFM constant volume AHUs that serve the operating rooms. The existing duct mounted steam reheat coils were also replaced with supply and return VAV boxes to enable airflow setback during unoccupied hours. The operating rooms were previously operating at ~30-40 ACH at all times to maintain the pressurization requirements, but are now operating at 20 ACH during occupied hours and 5 ACH during unoccupied hours.*

*EQUEST model reviewed and approved by Eversource.